Giant All-Season Houses
Giant All-Season Houses are ideal for large groups of small tortoises such as Hermann and Horsefield tortoises. They are also ideal for medium species of tortoises such as Leopard and Indian Star tortoises or large species such as Sulcata or Aldabra tortoises. There are three sizes available with different height sides below the windows and overall heights.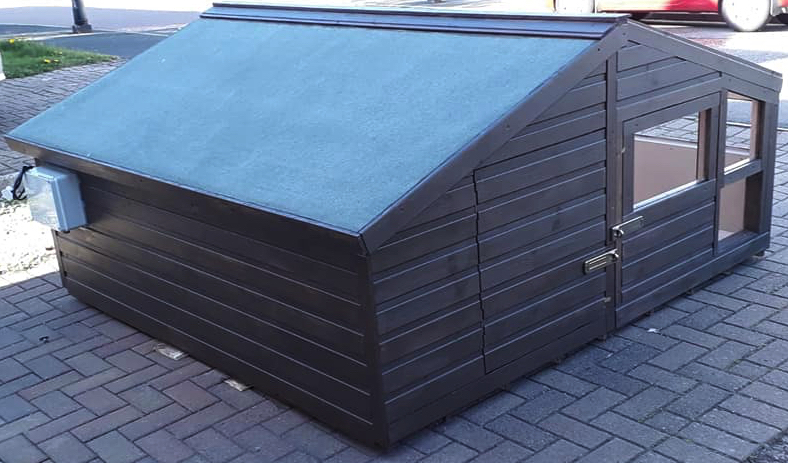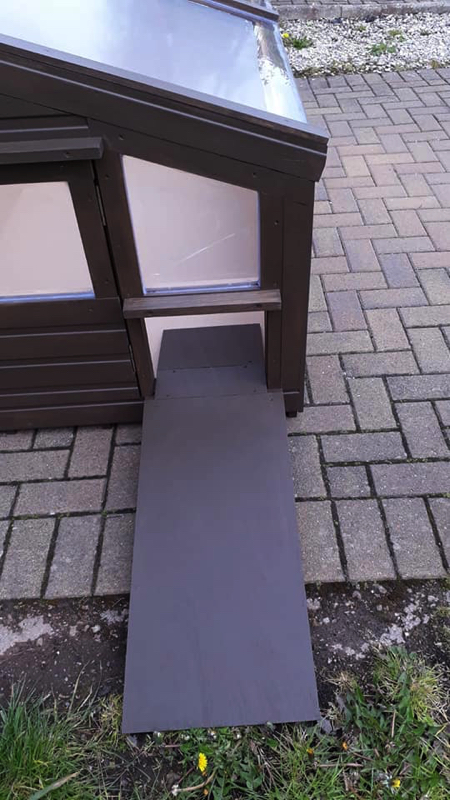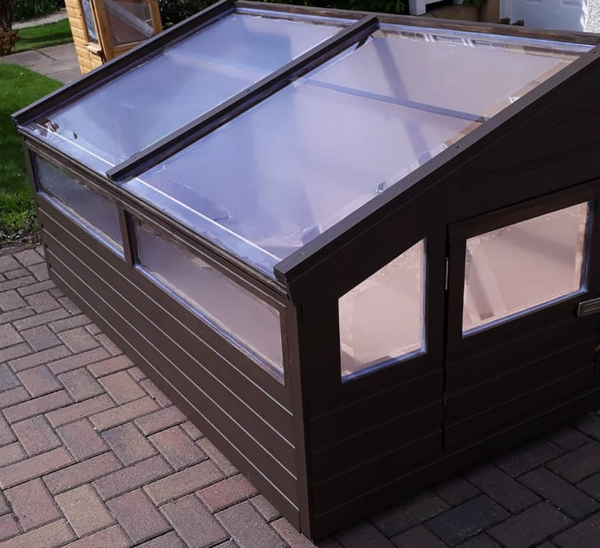 Cosy Tortoises Giant All-Season Tortoise Houses are designed to house tortoises all year round outside. They are fully insulated to protect against the cold, the wind, wet weather and over-heating in the sun. The insulation and a good quality thermostat is essential for keeping heating costs to a minimum meaning All-Season Houses are the eco-friendly option. Please note that the windows in the pictures of the Group Giant All-Season Tortoise House above still have their protective film in place, that should be removed after assembly. Photos show colour upgrade to English Oak Garden paint.
Provides essential heating facilities for keeping your tortoises outdoors all year round and particularly when the UK has temperatures below 15 degrees C. This accounts for 8-10 months of the year.
Large enough space to provide a good temperature gradient. Ideal for closing tortoises in overnight when below 15 degrees C outside.
Walls, floors and roof are double walled with premium insulation in the cavity.
Doors can be locked and the windows are made of security glazing with high impact resistance.
Special UV transmissive polycarbonate which is specially sourced allows UVB to filter through. Natural UVB light is essential for tortoises.
Very energy efficient housing with minimum height to reduce heating costs.
Tortoise Ramps for easy access for Tortoises.
Tortoise access door is 25 cm wide by 20 cm high for the small and otherwise can be specified by the customer.
Cosy Tortoises Add-On Outdoor Tortoise Runs can be fitted to the house.
Flat-packed on arrival (pallet delivery) with simple and complete assembly instructions.
Four access doors from both side for accessing house to clean.
Hasp and Staples and Turn buttons included and fitted.
Electrical Installation available with timed programmer for UV light and heat lamp sockets.
Heat and Light Pack available for the All-Season Houses.
Vine Eye included for fitting heat lamp.
Drip Mould fitted above the tortoise doors to protect area below from rainwater.
Air Vent in the large door near the heat lamp for adjusting the air flow seasonally.
If none of the three standard range are suitable for you then you can choose your own size. Please visit the Custom Housing Quote Form

for more details on how to inform us about your requirements.

Electrical Installation, Electrical Packs and Gadgets are available for these All-Season Houses.
Length Width Height at Apex
Group Giant All-Season House with Sunroom 2.0 m x 2.0 m x 1.0 m £2499.99
Medium Giant All-Season House with Sunroom 2.0 m x 2.0 m x 1.3 m £2999.99
Large Giant All-Season House with Sunroom 3.0 m x 3.0 m x 1.6 m £4999.99
Prices exclude pallet delivery. Please contact us for pallet delivery
prices because they vary depending on your location. These items are very heavy fully assembled so will always be sent flat-packed with pre-drilled holes and fittings, as well as full assembly instructions. The individual sides, bases and roof sections will require multi-person lifting. You must take into account that you have enough room for access and assembly at the final site. For site preparation details please see the
All-Season House Info page
.
---
Cosy Tortoises Colour Upgrade
All of the Cosy Tortoises All-Season Houses are treated with Oak-coloured wood preservative as Standard. However for an additional charge, you can upgrade to one of the 12 colours shown here. IWhen you order please send e-mail to cosytortoises@btinternet.com stating the colour you have chosen for your All-Season House. Please click here to see the colour options.
Giant All-Season House with Sunroom colour upgrade £70.00
Cosy Tortoises cannot guarantee that the paint colour chosen will look the same as displayed on the website, due to variation in product colour by the manufacturer and natural variations of the wood. Cosy Tortoises applies at least one coat of preservative wood paint and recommends further coats are applied after delivery according to the paint manufacturer's instructions. At least one further coat of paint is recommended so that any movement of external surfaces in transit are sealed thoroughly to ensure the house is weather-proof.