Tortoise Food
Cosy Tortoises only sell food that are suitable for tortoises.
---
Habistat Tortoise Food
Habistat Herb and Flower Tortoise Food is suitable for European, Russian and most other tortoises. Used as part of a varied and balanced diet. Wet until soft. Replace daily.
---
Pre Alpin Fibre and Herbs Tortoise Food


Available as fibre or herbs. Both offers a diet replicating the natural habitat of tortoises. The food ensure an optimum crude fibre or herbs supply and thus healthy intestinal flora. Contains no cereals or animal products and at the same time offer an ideal calcium/phosphorus ratio.
---
Komodo Complete Tortoise Food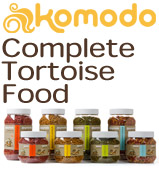 Komodo Complete Tortoise Food is a complete and balanced nutrition for European and Russian Tortoises.

The mediterranean and the Russian Tortoises are the most popular tortoises in the UK.They have specific requirements that are different to other species of tortoises such as Red foot Tortoises or the African Spurred tortoise.

Komodo Tortoise diet has been holistically formulated to provide a complete food for these popular European species. the diet is high in fibre and low in protein. Superior taste with natural flavours and high in fibre with a Calcium to Phosphorous ratio important to Tortoises. Komodo comes in four flavours: Banana, Dandelion, Cucumber and Fruit with Flower. Available as