Heating Equipment
Tortoises are cold blooded reptiles and need a heat source to maintain a healthy temperature for efficient metabolism.
Exo Terra Glow Light
The Exo Terra Glow Light Heat Lamp gives you the versatility of placing heat and/or light sources in your tortoise accommodation where needed. The device is sturdily constructed, with a metal reflector, heat resistant ceramic socket, and a spring-loaded swivel clamp. It can be easily turned off and on by the switch, mounted on the extra long power cord. The inside of the reflector is coated with a highly reflective luminous coating that continues to glow long after the lamp is turned off. The multi purpose fixture fits a variety of screw-based bulbs excluding ceramics heaters. It is recommended that a Dimmer Thermostat is used with the Exo Terra Glow light. Available as small (14cm diameter), medium (21cm diameter) and large (25cm diameter) lamps.
Small £26.99
Medium £29.99
Large £34.99
Prices includes delivery.
---
Thermostats
Thermostats are a must in any Tortoise set-up. The thermostats control the temperature ensuring that the correct temperature is maintained at all times.
Habistat Digital Dimming Thermostat Day/Night and Timer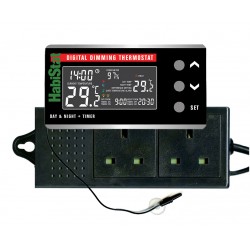 This thermostat is suitable for most heaters and will provide a continual temperature rather than a hot and cold cycle. It has a separate setting of daytime temperature and night time temperature. Continual readout of current temperature and time. Revolutionary Power meter continually indicates % of power at the heater. Built in coloured icon flashes to indicate function presently in use. Separate timed circuit for lights or other heat source which turns on and off twice in a 24 hour period. Waterproof, 3 metre long, low voltage sensor. Adjustable alarm function to give visual and audible warning when temperature goes above or below set temperature parameters. Alarm can be disabled if not required. Both upper and lower temperature limits can be set. This comes with preset parameters, so can just be plugged in and used if required. Will not lose memory settings if power is disconnected. Measures temperature to 0.1 degrees Centigrade. Easy to set and use. Maximum 600 watts. 12 months guarantee. Free postage with this item.
£85.99
Price includes delivery.
---
Habistat Thermostats (not digital)
The Habistat range has an external knob to adjust the temperature. The dial can be read in Celcius and Fahrenheit. The Dimming Thermostat is ideal for any heat/light source. The Pulse Thermostat are to be used with non emitting light source such as ceramics heaters. The Day and Night Thermostats allow you to set a lower temperature at night time.
£69.99
Price includes delivery
---
Heat Lamp Bulbs for Tortoises
Exo Terra Basking Spot Lamp
The Exo Terra Daylight Basking Spot Lamp is a broad-spectrum daylight spot lamp with a Neodymium sleev. The spectrum is ideal for plant's photosynthesis and teh UVA light contributes to tortoises physiological well being. The spot allows one to direct the heat and light in a certain direction to create basking sites in the enclosure. Available as 50w, 75w, 100w and 150w lamps.
50w £8.99
75w £8.99
100w £11.99
150w £11.99
Prices includes delivery.
---
Exo Terra Infrared Heat Lamp
The Exo Terra Infrared Heat Lamp emits infrared heat waves and is a typical heating lamp. The spot lamp has a special build-in reflector to direct the heat in any direction required. The red glass transmits infrared waves produced by the special filament of the bulb. The reddish light will not disrupt normal activity during night or day, which makes it an excellent 24 hour heat source. Available as 50w, 75w, 100w and 150w lamps.
50w £10.99
75w £10.99
100w £12.99
150w £12.99
Prices include delivery.